Free shipping on all US orders!
Use Code "THANK YOU" for 10% off 2 bags or more!
Regular price
Sale price
$25.99 USD
Unit price
per
Sale
Sold Out
Our Seafood Mix is currently low in inventory.  If we run out, the next restock will be around 12/30.
Want more toppings?  Now you can add as much as you want! 

Just toss toppings in and cook together with the noodles or add boiling water to the toppings and let it sit for at least 3 minutes.  It is just that easy!!
One bag makes roughly 20 servings, it is a BIG bag!
Shelf life of up to 1.5 years.
Net Weight: 14 oz
Ingredients:  Shrimp, squid, imitation crab, fish cake, bean curd, shiitake mushroom, corn, cabbage, carrot, and green onion.  

Contains:  Wheat, Soy, Egg, Shellfish (shrimp) and fish ( pollock) and MSG (imitation crab only)
Free sticker with every order! Limited time only!
All sales are final

Care Instructions

Best when stored tightly sealed in a cool and dry place.
Shipping

Free shipping on all US orders!
Shipping time is 3-5 business days
International Shipping

Customers are responsible for any custom/tariff costs that may arise. 

Shipping to Canada:

$9 USD for the first bag
$4 per additional bag.
Shipping time is 1-3 weeks.

For all international shipping:

$15 USD for the first bag
$5 per additional bag. 
Shipping time is 1-4 weeks

All orders with more than 4 bags will automatically be upgraded to express shipping which is 3-8 business days
View full details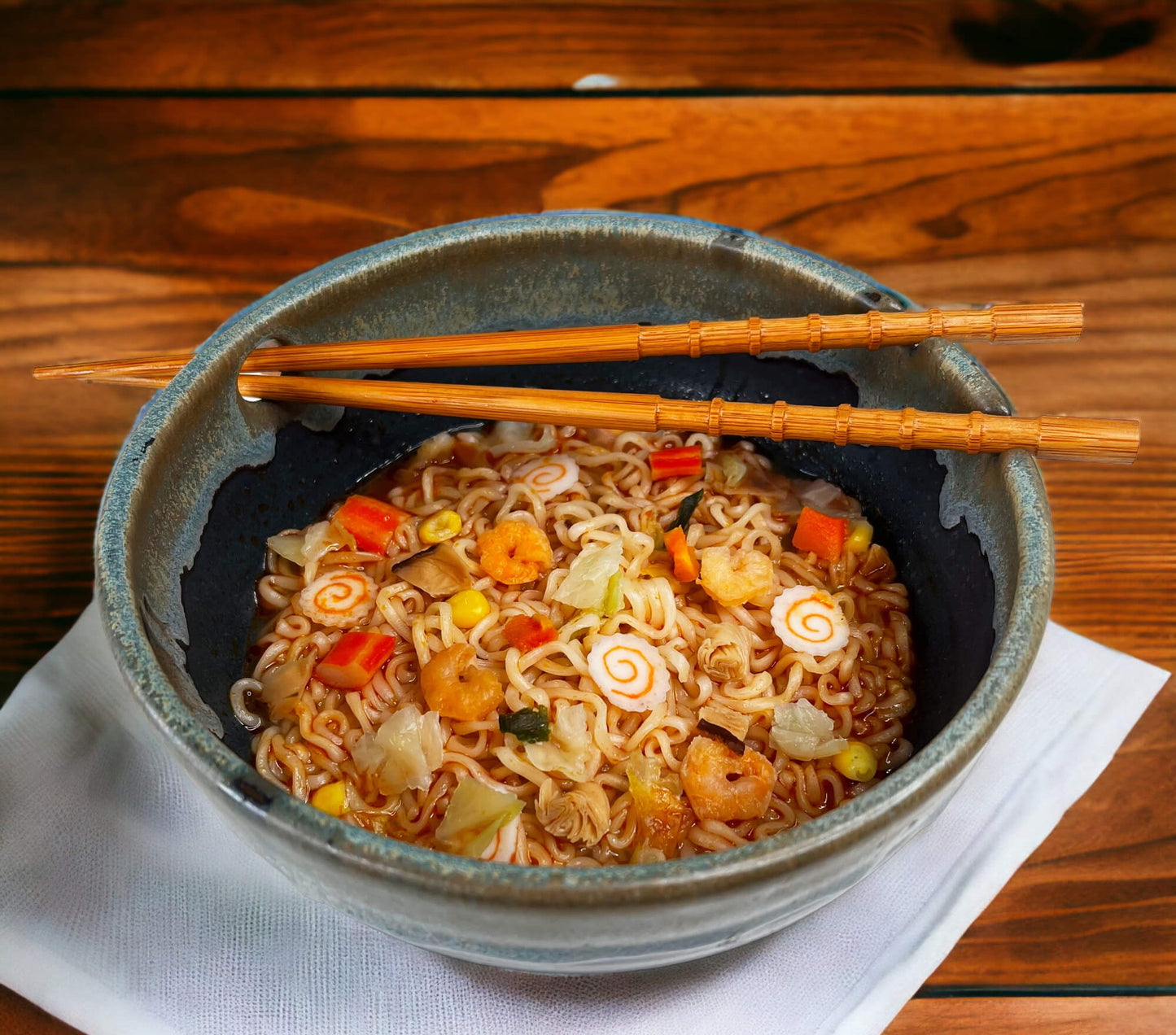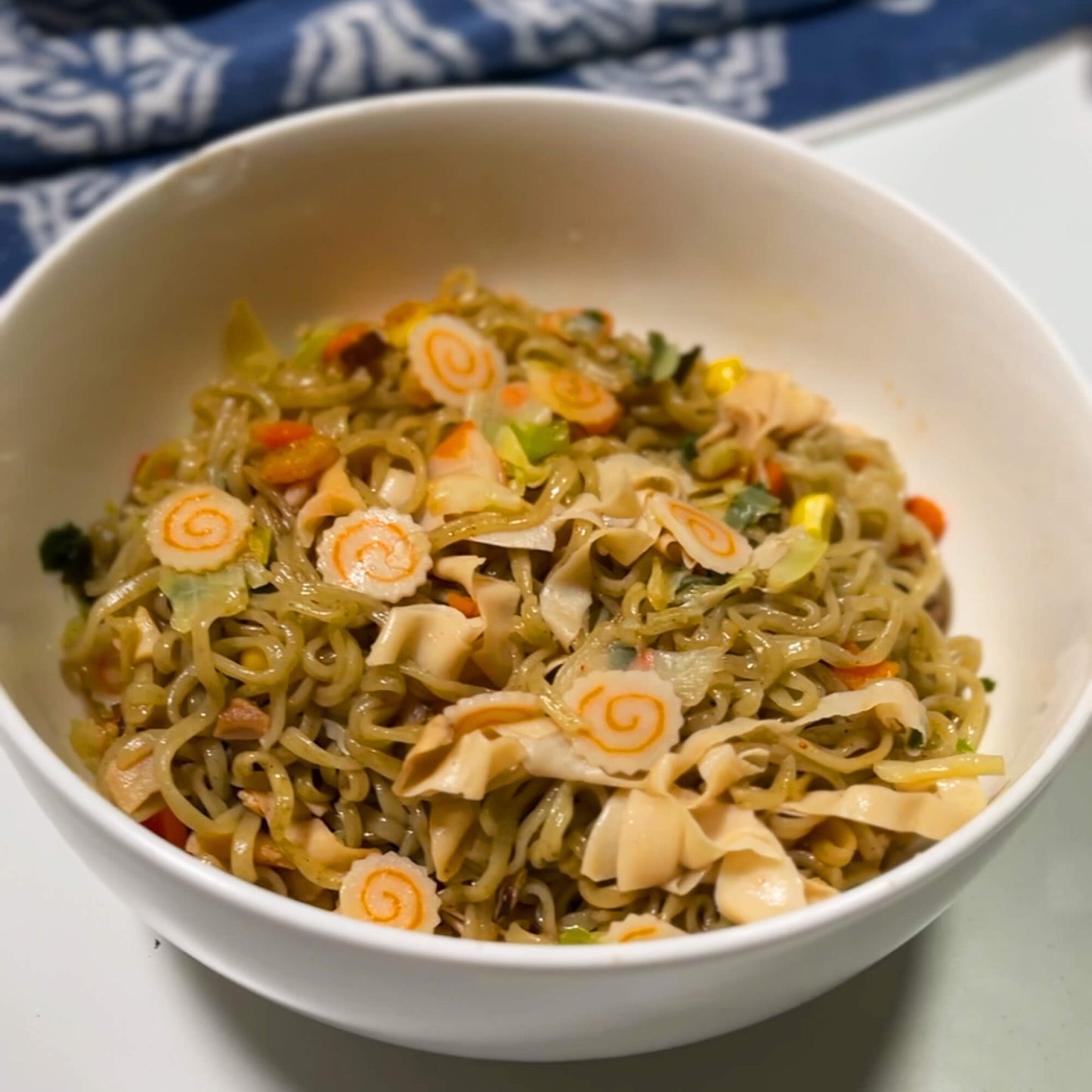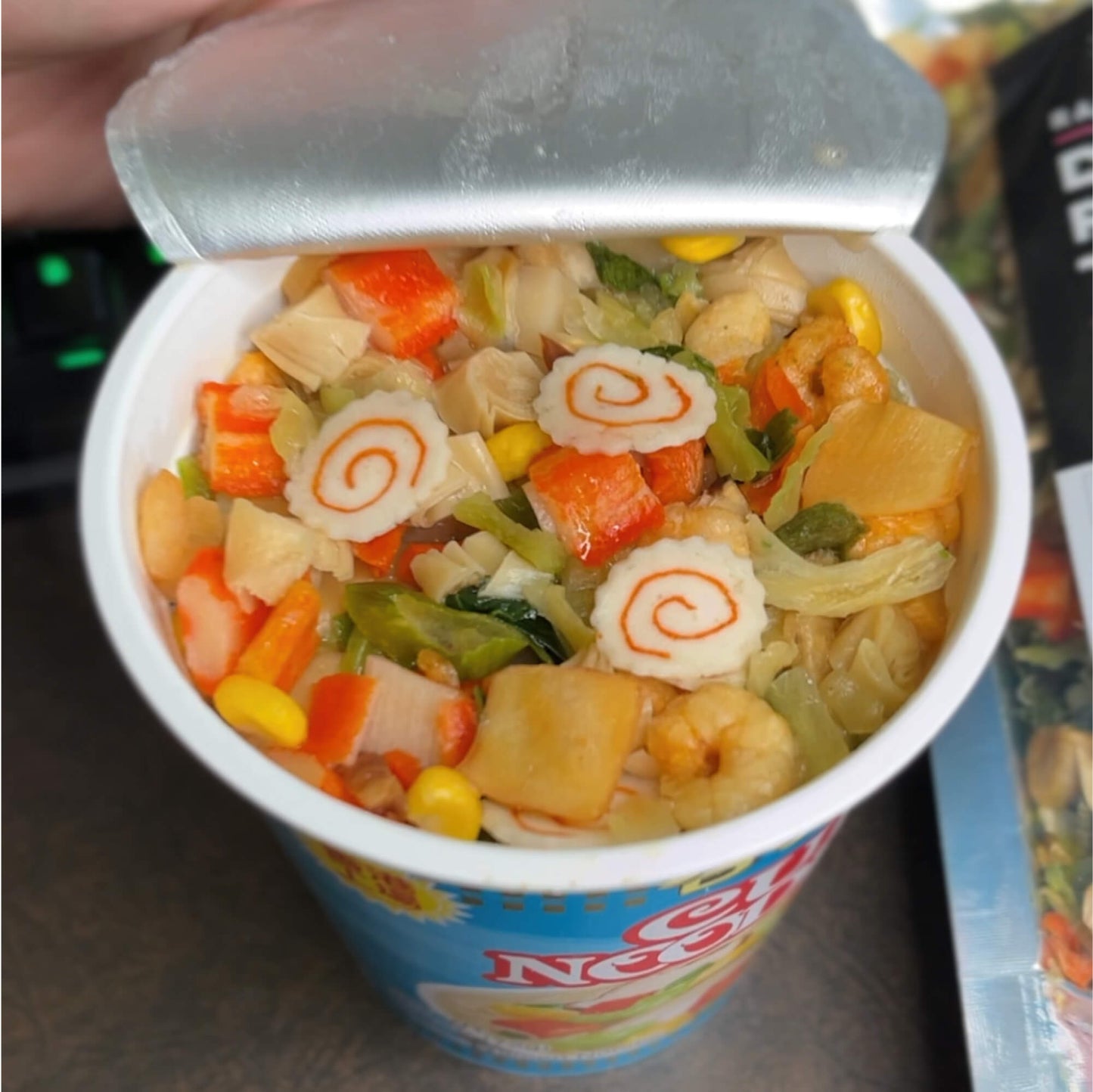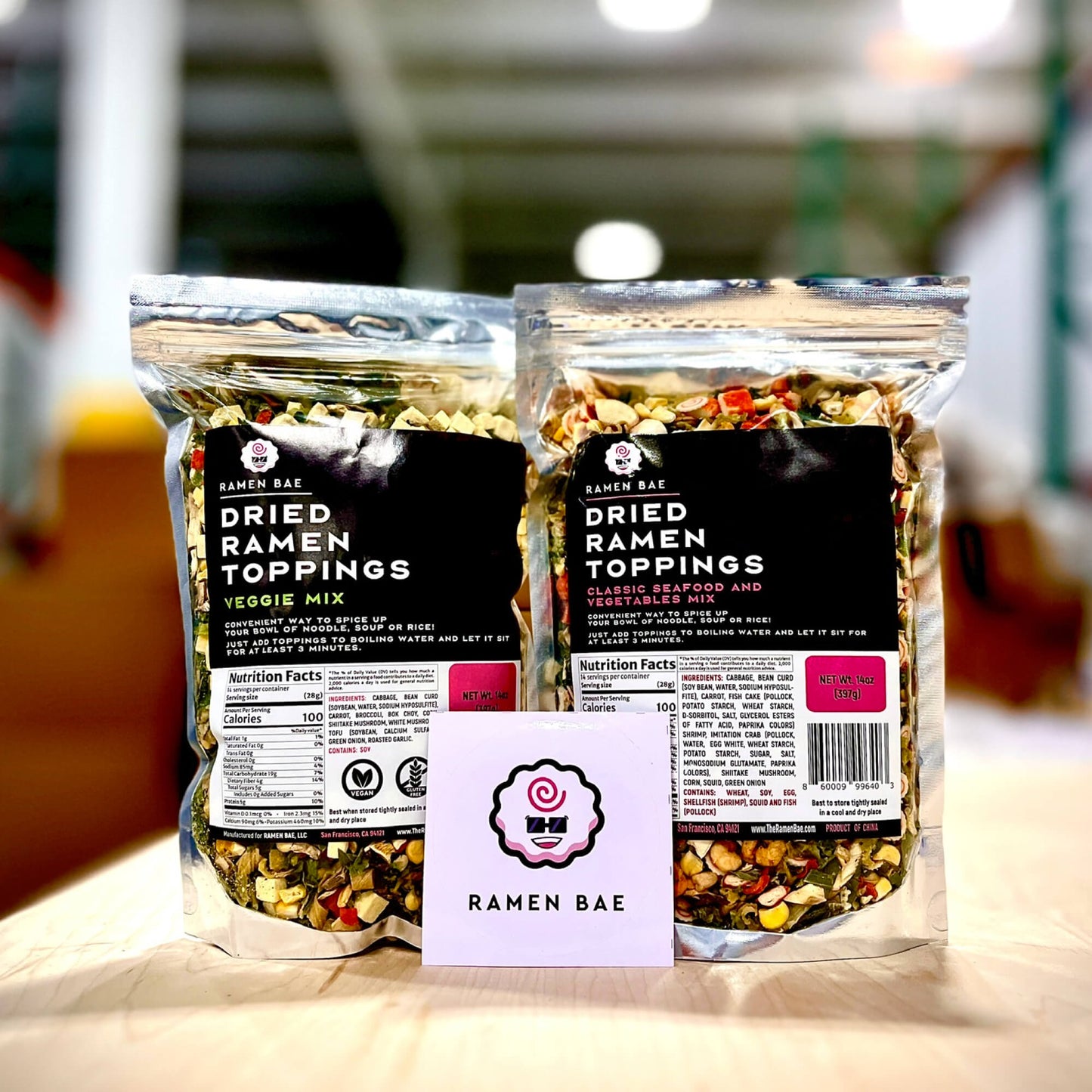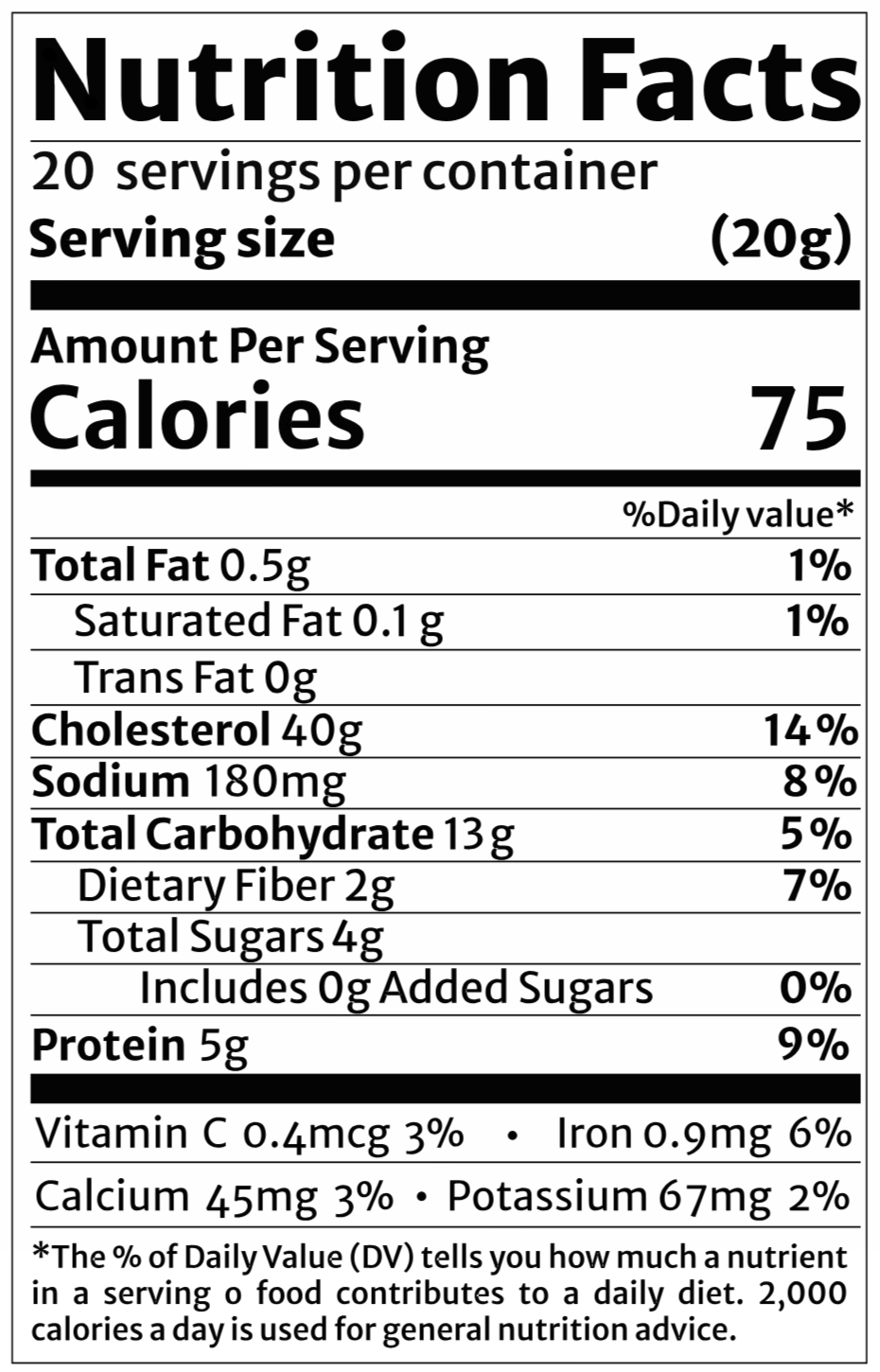 Delicious, great value
WOW is this mix good. I tried it in a cup of tonkotsu ramen and also a cup of chicken ramen. The seafood and veggies add so much flavor to instant noodle broth that it tastes almost like restaurant quality without adding unnecessary salt. The only thing you have to do if you're making instant noodles is to add a bit of extra water so the ramen itself cooks through completely.
It's also worth noting that each bag has a TON of stuff in it. I was expecting to get a bag that was about 2/3s the size of what arrived, so that was a delightful surprise. The package says that a serving is 28 grams of toppings, but 14 grams is plenty for a small cup. So that makes one bag of toppings into four weeks' worth of ramen if I ate one every day. It's definitely a great value for the quality of life increase you get out of it!
So good!
I was so excited to add this to my ramyeon and I was not disappointed! It's packed with yummy goodies and tastes so delicious! Ramen Bae communicated every step of the way!
Work lunches are exciting for a change
I keep Maruchan instant ramen in the employee lounge for inexpensive, quick and easy lunches while I'm at work. I have been desperately searching for something to add to it. Because the fridge at work is so small, and unreliable, I needed something also shelf-stable.
Ramen Bae saved my lunches! I just got my order and whipped up a quick bowl of indomei. I can honestly say, I have never whipped up a more delicious bowl of instant noodles... with minimal effort! The amount of deliciousness feels almost like I'm breaking some unspoken rule. This stuff is definitely a cheat code!
Since this was my first order, I'll admit I was a little nervous. My two concerns were: 1. It would smell overwhelmingly fishy and 2. It would be overpowered by a single flavor (like carrots). I am happy that my concerns were put to rest. The ingredients smelled clean and pleasantly like the sea, and everything tasted very balanced. I was able to identify individual ramen topper components with each bite. So enjoyable!
I'm so glad I ordered two bags. I will definitely make sure to keep Ramen Bae in stock!
(excuse the lousy plating lol, I literally dumped a hand full of the ramen toppers into the pot of boiling noods, and then poured it all into the bowl)
I thought it was going to be more flavorful but it's ok.
Looks good, gift for family member.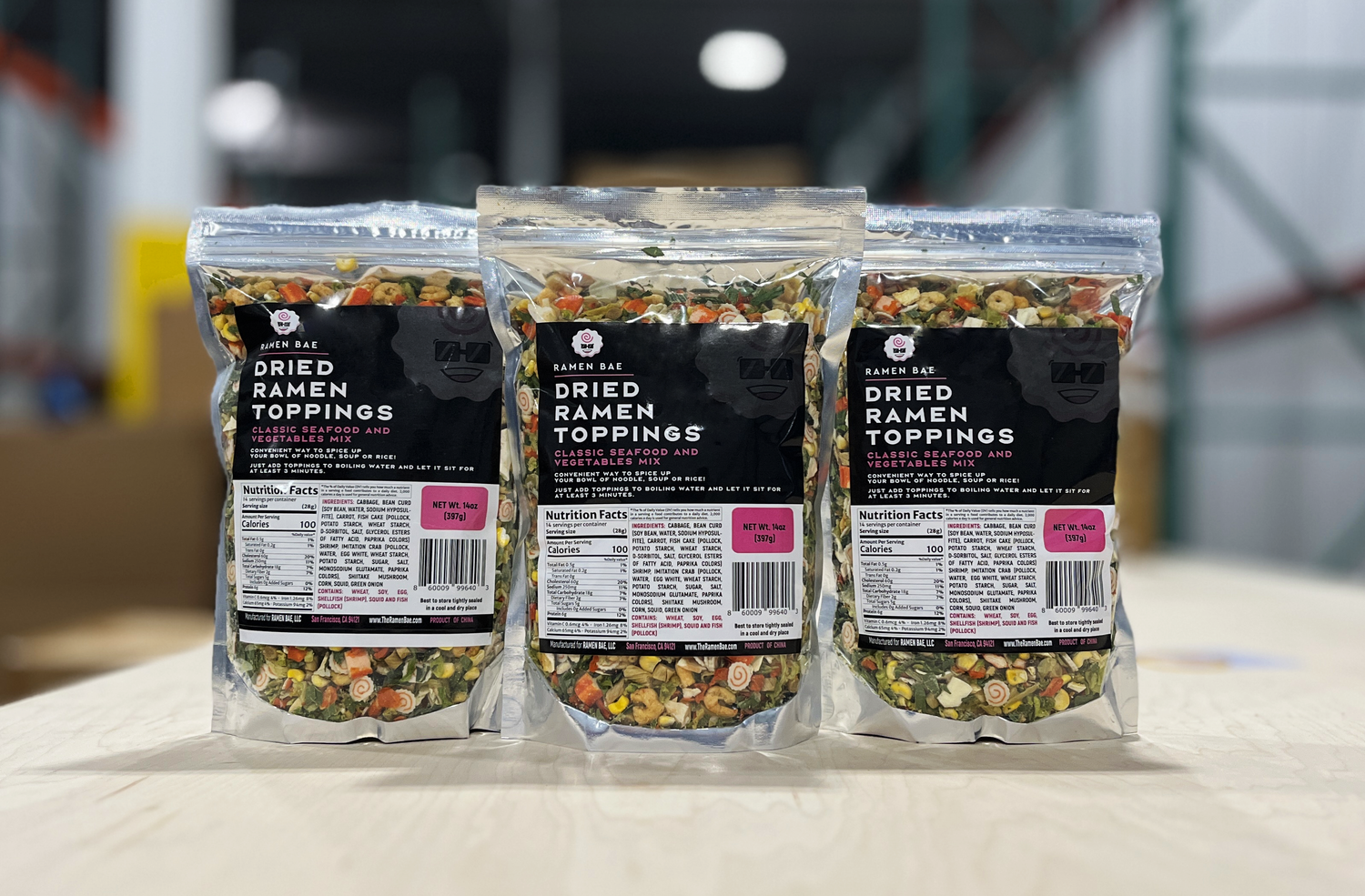 Classic Seafood and vegetables mix
Based off of a wildy popular seafood cup noodle in Asia, this mix features some of the most beloved toppings plus more!